I am thrilled to be working on another Bonnie Hunter MQ. I blog more and enjoy others blogger pages. I have been quite bad at posting on my blog the last while. Medical issues, spent most of the summer waiting for the phone to ring with an appt with the cardiologist in Edmonton. All is well for now and I can settle in to what I love.
I have done four of Bonnie's mysteries and I am hooked. Here is a link to this years Mystery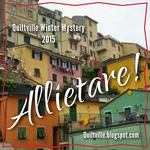 I will be joining Bonnie's Link Up Monday, and look forward to visiting all the other Allietore! bloggers.
Clue #1
Here are 300, 2 " HST.
I am using Bonnie's colors, as I love them. All pulled from the stash. I had them in the stash as I was actually gathering burgundy, black and gold for another quilt...story below. Reds lean more towards burgundy, black has small dots. The grey in the HST is a Moda solid.
I used the Eight at a time method for HST, it goes so quickly and perfect little 2" hst. Love it.
And here is the foreman keeping an eye on things.
I took a class and made this quilt many years ago, neither the instructor or others were pleased with my color choices, and kept saying things hinting that it wouldn't work. But I am stubborn and stuck to my guns. Here it is. I have always loved these colors, over the past year purchased fabrics here and there that were on sale...and than along came Allietore!!
Happy quilting .
Link up Monday